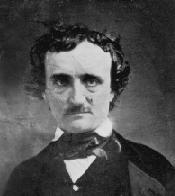 Edgar Allan Poe
(1/19/1809 - 10/7/1849)
A Magnificent American poet, short story writer, journalist, and literary critic, Edgar Allan Poe was born on January 19th, 1809 in Boston, Massachusetts. Edgar was orphaned at an early age, and was sent to live with a foster family, the Allans, in Richmond, Virginia. Young Poe was never officially adopted by the Allans, and was eventually disowned by the family after years of disputes.
Poe won a short story contest at the age of 24 and therefore became a literary critic for the "Southern Literary Messenger". Shortly after that, he married his cousin, Virginia, who was 13 at the time, in 1836 at the age of 27. Edgar became famous around the United States upon the publication of "The Raven" in 1845.
Edgar's life was marred with intense drinking bouts, giving him a bad reputation in 19th century society. He however continued to write wonderful short stories like "Murders in the Rue Morgue" and "The Gold Bug", which brought him fame in Europe.
After the death of his wife in 1847, Poe fell apart emotionally and died two years later, at the age of forty.
Edgar's life and reputation won him a few titles by other literary critics, not all of them good. With the aid of the nature of his stories, people have labeled him paranoid, neurotic, oversexed, addicted to various substances, until all the public is left with is an unstable man sitting in a dim room, with a raven over his door, a bottle at his table, a pipe full of opium, scribbling insane verses.
In my opinion, Poe was one of the most prolific, touching writers I have come across in my readings. What he wrote stings you into an emotional response, and you can feel his poems and stories, you can be there, in your mind, seeing what he put down on paper. This, in my opinion, is what makes a great writer.