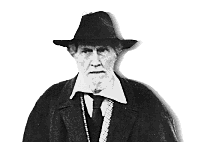 Ezra Pound
(10/30/1885 - 11/1/1972)
Ezra Loomis Pound was born in Hailey, Idaho in 1885 but spent his formative years in Wyancote, Pennsylvania, where his father was an assayer to the United States Mint. He studied at the University of Pennsylvania for two years then transferred to Hamilton college, receiving a degree in 1905.
After teaching Romance Languages at Wabash College in Indiana for two years, he resigned and travelled to Spain, Italy and England, where, as the literary executor of the scholar Ernest Fenellosa, he became interested in the poetry of the Chinese and Japanese. Ezra Pound founded the Imagist movement in poetry, which encouraged experimenting with different verse forms, and opposed representational art in favor of abstract forms.
Ezra married the artist Dorothy Shakespear in 1914 and in 1922 began a life-long relationship with violinist Olga Rudge. In 1924 he moved to Italy and became involved in Fascist politics, and did not return to the United States until 1945, when he was arrested for broadcasting facsict propaganda via radio to the United States during WWII, on charges of treason.
In 1946, he was acquitted, deemed unfit for trial, and declared insane. He was committed to St. Elizabeth's Hospital in Washington, D.C. After many letters and appeals from friends and writers, including Robert Frost, Ezra won his release from the hospital in 1958. He soon returned to Venice, where he died, a recluse, in 1972.