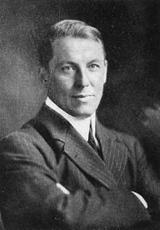 Robert W. Service
(1/16/1874 - 9/11/1958)
Robert W. Service was born in 1874 in Preston, Lancashire, England and was the eldest child of 10. He composed his first poem at the age of 6 while living with his paternal grandfather and maiden aunts in Scotland. A mischievous youth, Robert always dreamt of adventure and going to sea.
Following in his father's footsteps, Robert trained as a bank cashier. His regular income afforded him enough time to write, earn extra money, and read Browning Tennyson Thackery and Keats. He attended the University of Glasgow and studied English Language and Literature. After a promotion at the bank, Robert began working on his physical condition while saving money away and dreaming of some day being a cowboy in Western Canada.
In 1895, at the age of 21, Robert announced his intentions to emigrate to Canada, and resigned his position at the bank. He set sail for Montreal with one suitcase and a copy of Robert Louis Stevenson's "The Amateur Emigrant". From Montreal, he travelled by train across Canada until he reached Vancouver Island. For six months he learned to milk cows, weed gardens, make hay, work an axe and cross cut saw, pick apples and ride horseback.
The next few years saw a lot of travel and odd jobs for Robert throughout Western Canada and the Yukon. He met a lot of interesting people, and fell in love with their stories. He heard the story of a prospector who cremated his partner one day, and his lyrical version of it ended up in a collection that he sent to his father. While Robert had intended the collection to be published for "vanity", only to be given to friends & family as gifts, the publisher offered him a check along with terms for publication rights - and his career as a writer was established.
During his lifetime, Robert published six novels, two autobiographical works, over 45 verse collections and 1,000 poems. After World War I, he married Germaine Bougeoin and they spent the remainder of their lives together, mainly on the French Riviera.